At Uran Company, we help businesses achieve their goals through tailored digital solutions. We're a software development agency that provides website development, mobile development, QA, and more.
With over 16 years of experience, we are experts working in industries such as retail, wholesale, automotive, restaurants, entertainment, and more. We are proficient in modern technologies and we have developed innovative approaches to ensure results and efficiency in all our projects.
Recently, we received reviews on Clutch that demonstrate our expertise as a development agency. Clutch is a leading B2B research company based in Washington, DC.
They aim to help business owners and managers find the best B2B service providers for their business needs. Their team of analysts collects detailed and unbiased reviews from clients about their engagement with a service provider.
The review came from a digital fertility clinic. We supported the development of their website and their overall IT operations.
Our team started by studying the features and functionalities the client wanted on their website, as well as their brochure to know their color schemes. We proceeded to design and develop the website via WordPress.
Uran built a platform that allowed users to schedule appointments, make payments, and undergo check-ups through video conferencing. We're currently providing maintenance services to the site, adding new features as needed.
We successfully delivered the website, which functioned well and as intended. It automated the scheduling process, which streamlined the client's operations.
They praised the quality of our code and project management. "We like that they do high-quality work, they get it done right the first time, and they're proactive in their thinking," said Jake Diner, CEO of Fertility Cloud. Thus, when the client rated our service, they gave perfect five stars across all metrics!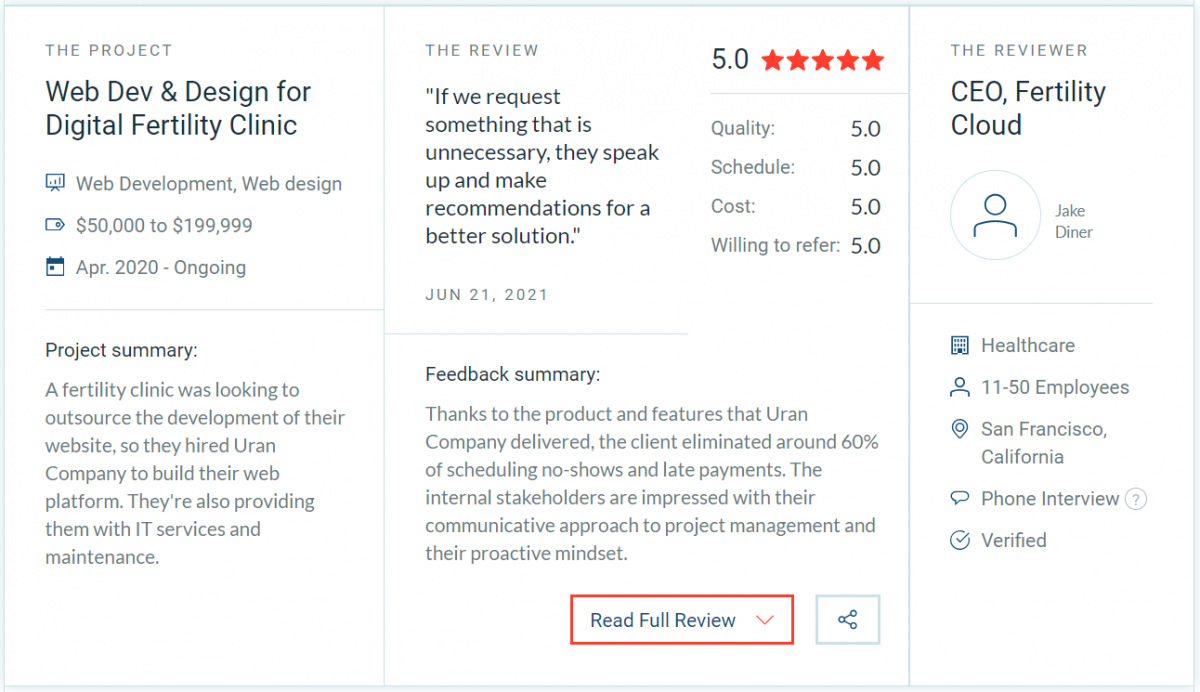 We also received a review from a tire distributor. Our team designed and developed an e-commerce platform and mobile app that allowed their customers to purchase tires and trims. We integrated the platform with various suppliers, distributors, and payment facilities.
Uran successfully delivered the e-commerce app, which functioned as intended. It increased the client's sales and profit. They praised our communication skills, responsiveness, and competitive rates. With that, the client gave us a perfect five-star overall rating!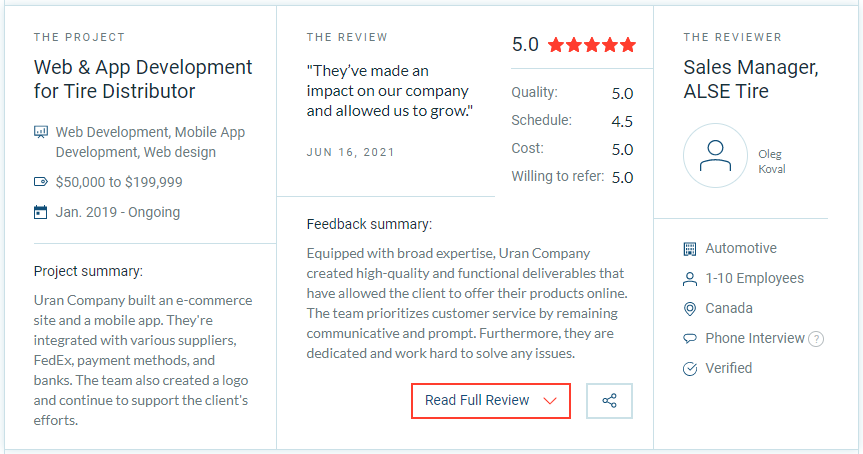 Clutch's sister website, The Manifest, recognized our excellence as a development agency and included us in their list of Top Laravel Developers for 2021!
The Manifest is a business news website that provides business tips and lists the absolute best agencies for innovators, entrepreneurs, and business managers. We are proud to be featured on the Manifest as a leader in our industry.
We thank each and everyone who took the time to give us a review. Their positive feedback validates our efforts and speaks to our expertise and ability to deliver to our customers.
Do you have a project in mind? Contact us today, and let's discuss the many ways we can help transform your idea into reality!